MADE JUST FOR THE FANS OF GOOGLE'S TOOLS
THERE'S A TIME AND A PLACE TO BE UNPRODUCTIVE
Inside Your Business Isn't One Of Them.
STOP feeling scattered and frustrated with your workflows, and
START tapping into the full potential of your favorite tools
(without putting more on your plate).
Get Instant Access to
Get Productive with G Suite
for $47 CAD >>
Don't let the price fool you! Valued at over $1,222 CAD!
This is a *comprehensive course* at an *entry level* price!
YOUR DIGI-CLUTTER IS COSTING YOU HOURS EVERY.SINGLE.DAY.
ANY OF THESE GET YOUR HEAD NODDING, "YUP THAT'S ME"?
YOU'RE ALWAYS RE-DOWNLOADING FILES... 'CUZ WHERE THE HECK DID YOU SAVE THEM LAST TIME?
...and what on earth did you you name them?
#treasurehunt
YOUR DESKTOP IS SO LITTERED WITH ICONS THAT YOU CAN'T RECOGNIZE WHICH FAMILY VACATION YOUR BACKGROUND PHOTO IS FROM...
...and who knows when you'll take another vacation, since you're wasting so much time in this digital wasteland of clutter!
YOU COULD GET FREQUENT FLYER MILES FOR HOW OFTEN YOUR MOUSE TRAVELS TO "FORGOT PASSWORD"...
...and you're still paying renewal fees on that old domain you're locked out of.
YOUR INBOX MAKES YOU WANT TO REACH FOR A GLASS OF WINE (WELL BEFORE WINE O'CLOCK)...
...and finding that *one* link that your biggest client sent you last summer? HA! It's buried deep in an email with 67-back-and-forth-messages.
AND MAYBE THESE SOUND FAMILIAR...
And, yes, I'm adding levity to balance out the seriousness...
But it's better than a stack of blatantly-stock-photos!
"I pay for Google Workspace every month because we need it, but only use a fraction of what I know it can do."
- MOST ENTREPRENEURS, EVERYWHERE
"Our clients need to think that our left hand knows what the right hand is doing… even if it doesn't. It's embarrassing when things get lost - and it kills productivity."
- THERE, I SAID IT OUT LOUD (DON'T TELL ANYONE)
"My Google accounts are a mess! I need my teams on the same page to collaborate with clients, but not looking like this."
"I can't find anything when I need it! I spent an hour looking through files for the perfect photo for a 45-minute presentation… and then left it out anyway!"
- YOU KNOW YOU'VE BEEN THERE, TOO
"I'm so deep into Office 365, I can't imagine the time or hassle it would take to switch."
 - YOU'RE CLEARLY NOT ALONE
"I need to migrate off desktop-only solutions! Files are getting shared via email and we're getting into versioning problems. But the thought of migrating keeps me pinned down to my annual Microsoft 365 subscription".
- MICROSOFT USERS, EVERYWHERE
"Google's Apps aren't intuitive for me. I've tried to learn on my own, watched tutorials, and I even bought a course on Udemy… But I can't figure it out. It's exhausting to always be behind the curve."
- JUST SHOW ME WHAT I NEED, AMIRITE?


I get it! You're in a vicious cycle of not being organized, but also not having the time to get organized.
OH! And the SECRET TO PRODUCTIVITY? ORGANIZATION!
SO IF YOU'RE DYING TO FREE UP MORE OF YOUR TIME TO CONCENTRATE ON THE THINGS THAT BUILD YOUR BUSINESS. THE THINGS THAT ONLY YOU CAN DO...
HI, MY NAME IS DARA,
AND I'M A DIGITAL HOARDER (THE GOOD KIND)
My business started as a side-hustle... and then took off within 4 months.
All of a sudden, I was a "bonafide business owner" - taking on new clients, creating new services and riding high on my newfound success.
But in the excitement, I didn't pay ANY attention to the mess accumulating "behind-the-scenes".
My hard drive looked like a dumping ground. 
My Inbox perpetually had emails at the bottom that I never got to. 
My work quality suffered. My personal life suffered more.
No matter what I did or who I recruited to help , I still had to be available for everything... it seemed that hiring help only added MORE to my plate!
It wasn't until I took a step back and invested the time to properly implement File Naming and Organization, Process Documentation, and started to rely on cloud-based apps, that I could confidently grow my team in a way that actually gave me freedom to live, and gave my business the scalability to grow..
Loves: Mountain biking, squash (the sport), skiing, vacuuming, Friends reruns, (good) red wine.
Secretly Loves: 90s dance music, Dr Mario.
I get it. Your eyes glazed over. But hang tight.
You don't need MORE apps.
Just imagine if you could maximize your use of the apps that you know, love, and (probably already) pay for.
It's time to minimize confusion, info-scatter, and digi-clutter.
It's time to GET PRODUCTIVE.
DON'T JUST LEARN WHAT AN APP CAN DO.
PUT IT TO WORK FOR YOU & YOUR BUSINESS.
AND, SURPRISE! THAT'S WHERE I SWOOP IN WITH...
created for both Gmail and Google Workspace users
Get Productive with G Suite is the first online course you've ever taken where every minute spent pays you back in exponential time savings and business growth.
So quick and so easy, you won't even skip a beat in your business
(in fact, you might just skip a little faster).
Just $47 CAD? Easy Decision!

Organizing, Sharing, Templates, Backups & More
Google Drive might drive you nuts, but it's the foundational element in the Google Suite of tools, After this unpacking of productivity gems and hacks, you'll be DRIVing all the way to the beach with your afternoon off!
Seamless access to multiple accounts
​Securely shared files and folders

​Folder templates, ideal for repeated tasks 
​​Files that are easy to find, & easier to store
​Years of accumulated disarray dealt with *poof*
BONUS    The Google Drive "Shared With Me" Purgefest
BONUS   The Google Drive "My Files" Purgefest
Reaching Inbox Freedom with Gmail Magic
Whether your Inbox grows like a weed (or is already so overgrown you need a bush-whacker #nojudgement), you'll turn Gmail into a breath of fresh air... And then enjoy an afternoon walk without email anxiety crushing those good vibes. 
​Custom sorting system with Filters + Labels
​Templated replies locked and loaded

​Every email at your fingertips #searchhacks
​Seriously peaceful Inbox Zero*...  
​*...Zero, meaning only emails requiring action 
BONUS     Intro to TextExpander - for the most efficiency-hungry
BONUS     Staying out of the Promo folder (resource for marketers)
Bookmarks, Passwords, Searching, Oh My!
An organized Chrome browser can make or break your flow! 
Kick "Chrome Clutter" to the curb with a dash of security, a sprinkle of searchability, and a metric ton of organized and saved bookmarks. You'll be Crushing on Crushing It With Chrome in no time flat.
Orderly Bookmark Heaven
​Sweet Settings to stay organized

​Password Security + Continuity
​Powered Up Production (with extensions)
Pro Search Hacks (Googling Like a Champ)
BONUS     Google My Business - every online business needs a listing
BONUS     Intro to Workflowy - The Linear Mind-Map (oh, the clarity!)
Keep, Contacts, Calendars, Search
Productivity at your fingertips. We'll consolidate where you store digital notes, tasks, appointments, easy-reference-links and all the things you need by leveraging your apps (and then using them consistently). #gamechanger
​Search-friendly notes-to-self
​A calm calendar to help stay focused

Centralized & Synced contacts for easy access
​Search hacks into every nook+cranny of G Suite
BONUS     Searching Hacks (Applies to More than You Think)
BONUS     The Emergency Folder Rescue Resource
YOU DON'T WANT TO LEARN WHAT AN APP CAN DO.
YOU WANT TO MAKE IT WORK FOR YOU & YOUR BUSINESS.
LOOK AT THE APPS YOU ALREADY HAVE IN A WHOLE NEW LIGHT
instead of repeatedly chasing shiny objects new apps, hoping they'll solve your business' productivity or workflow issues.
THAT'S EXACTLY WHAT YOU'LL GET INSIDE OF GET PRODUCTIVE WITH G SUITE.
Get Productive with G Suite is a step-by-step framework that will allow you to fit Google's Suite of Products (free or paid) together for ultimate productivity, execution, and results.
The quick & fun tutorials focus enhancing PRODUCTIVITY in each app, INCLUDING…
Your Google Account(s)
Google Drive
Google Chrome
​Gmail (Free + Paid versions)
​Google Calendar
​Google Contacts
​Google Keep
THIS COURSE IS NOT LIKE TUTORIALS YOU FIND ON YOUTUBE.
This is a comprehensive, step-by-step, way of learning to use these Google tools, apps, and integrations that you have been underutilizing for years, - now seen experienced through a Lens of Productivity.
After Get Productive With G Suite, you can expect...
…with powerful tools to boost your focus
…to all your files, no matter where you're working
…with everything you need at your fingertips
created for both Gmail and Google Workspace users
Get Productive with G Suite is a step-by-step framework that allows you to take action, fitting Google's Suite of Products (free or paid) together for ultimate productivity.
Google Accounts - Set your settings the right way… so you can use your Google account with intention, knowing your files are safely backed up and protected.
​Google Search  - It's capable of more than you think! Leverage the logic of SEO plus the world's largest search engine to search like a boss across your apps.
​Google Drive - Learn how to set up, organize, purge, and manage your Google Drive to handle all your files so you never lose a file again.
Google Chrome - Sync your browser across all your devices, and learn to surf and search like a pro with ninja hacks and easy keyboard shortcuts!
Google Mail - Start fresh with Inbox Zero without losing any of your existing emails. Plus, pro(ductivity) tips that will continuously save you time and keep your inbox to a dull roar.
​Google Contacts - Merge, manage, and sync your contacts in one central place so you can access them on any device, anytime.
​Google Keep - Stop cluttering up your desk with random notes! "Keep" your thoughts and jots organized, no matter what format they're in.
Google Workspace - Time to graduate from free @gmail.com to a real business email address? There are lessons in each module that touch on Workspace-specific setup, plus a start-to-finish newbie setup walkthrough!
TOTAL VALUE = ($1,222 CAD)
(Seriously? Yes, that's it.) With a 14-day money-back guarantee.
You're an action-taker - I love it!

IT'S TIME TO GET PRODUCTIVE!
The Productivity Boost That You Need, Using Google Tools That You Already Know And Love.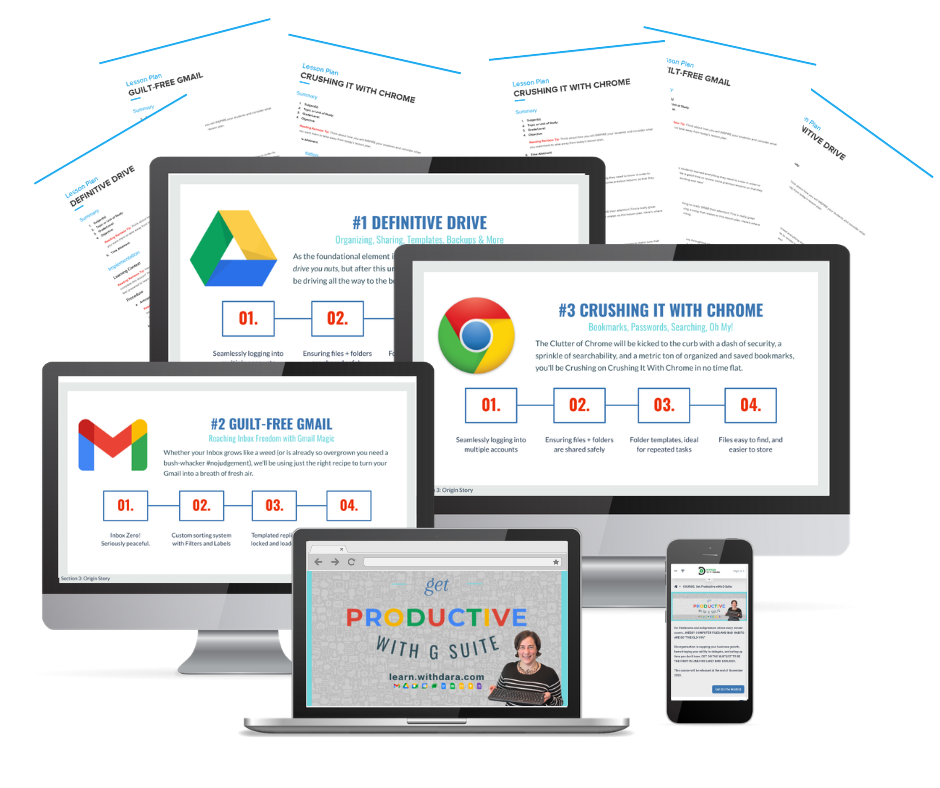 GRAB GET PRODUCTIVE WITH G SUITE BEFORE THE PRICE INCREASES!
​  Definitive Drive (Value $257 CAD)
​  Guilt-Free Gmail (Value $127 CAD)
​  Crushing it with Chrome (Value $127 CAD)
​  Intro to TextExpander (Value $22 CAD)
  ​Google Keep Hacks (Value $87 CAD)
​  Google Password Manager (Value $59 CAD)
​  Monthly Live Office Hours (Value $257 CAD)
​  Intro to Workflowy (Value $22 CAD)
​  Emergency Folder Rescue Resource (Value $59 CAD)
​  Optimize Google My Business (Value $59 CAD)
​  Google Calendar and Contacts Hacks (Value $87 CAD)
​  Google Account Security and Support (Value $59 CAD)
TOTAL VALUE = ($1,222 CAD)
I'll even help! Live Monthly Office Hours included.

ONCE YOU DIG INTO GET PRODUCTIVE WITH G SUITE,
the only "R" word on your mind will be "RECOMMEND!" (not "Refund")
But on the off-chance this is not a match for you and your business, we can offer a no-questions-asked refund within 14 days of purchase.
 Yes, really. This is how confident we are that Get Productive with G Suite will be a game-changer for you and your workflows.
"Here I am thinking that I'm working efficiently, and Dara put me to shame.
If I can harness that energy from her I'm going to kill it when I go back to school in January."
~ Emily Sklar (Yes, she's my sister but I'm still going to quote her)

"What do you do when you have a Google problem? Naturally, go to Google hoping you can find some sort of solutions right!? YEA good in theory but after a few hours, nothing truly solves my REAL PROBLEM sooo… I went to the Google Goddess, Dara Sklar! In one panic response telling her my frustrations, she gave me SOOO MUCH
MORE VALUE in less than 3 mins than I found searching for a few hours! She truly understood the underlying problem that I wasn't seeing: my linkage between one email server to another. This makes me soooo excited to see her course about Gsuite and productivity!! She can give you back those hours so you can do the work you do best."
~ Vittoria Daelli, Designer

Imagine how it will feel the first day the sun comes up and  you're not worried about what's falling through the cracks  because you're so well organized.
I've been there... it feels goooooood!
IF YOU HAVE Q'S, I HAVE A'S!
You're covering a lot of technical topics - how tech savvy to I have to be to take this course?
Everyone at different levels of technical ability will absolutely have big takeaways. The course focuses on how to improve productivity using these apps, which is relevant to everyone. Those with a pre-existing inclination for tech will learn great new tips and tricks. Others may more easily grasp the "what can be done" more so than the "how to do it," which is just as valuable!
Does the course dig deeper into Google products like Sheets, Docs, Forms, Slides? 
"Beyond Productive" is an add-on course that covers pro tips and in-depth use of these specific Google Tools.
How long does it take to complete the course?
I'll let you know once I'm done recording it all! But I swear that every minute spent is an hour saved.
Do I need to purchase any software for this course / do I need to have a paid Google Workspace account?
Google's products work great at the free tier. However, if you're in business and don't have an email address that you OWN, you really should. Or, if you want to improve continuity within your business, Google Workspace is a great choice at only about $6/mo /inbox! So, no you don't NEED to be a paid Workspace user, but the paid suite does have its advantages, especially at such a reasonable price.
Aren't Office365's Apps more robust than Google's?
They can be... but they are also stuck on your desktop. So if you don't need to collaborate much (in a world where collaboration is  competitive advantage), then stick with your desktop-based apps.
How long do I get to keep the materials? Can I move at my own pace? 
Yes, it's 100% at your own pace. You get perpetual access to the material. I also host monthly office hours which can be a great way to just dip your toe in without doing too much course work before getting your questions answered!
I use free Gmail, is this  course suitable for me?
Absolutely. All of these tools are available to the free Gmail account holders. If you've related to any of the copy, above, then this course is absolutely built for you, too!
What happens if Google makes changes to their platform?
I think you mean "when"! Tech interfaces changes all the time, but generally WHAT you can do does not. If the visuals in the course material no longer match the current interface of the platform, I'm sure a quick Google search will clear things up. (And it'll be no problem because you're going to be an expert Googler!)
What if I don't like the course, and want a refund?
I've get it! Not every teacher suits every learner. Just email us at [email protected] within 14 days of purchase for a full refund.
If I don't use Google products but I just want to be more productive, can I join the course?
You'll gain a ton of value from the course for general productivity, but the tech is centered around and does assume that the students are familiar with using Google products.
But Dara, didn't you know know that G Suite has been renamed to Google Workspace?
Why did I name a NEW course by the now-retired brand name "G Suite"? ... because "Google's Suite of Products" just doesn't flow off the tongue, ya know? (And the course is not JUST about "Google Workspace," so I went with "G Suite" also because it's short and suite.)
Are there transcripts and/or do the videos have closed captions?
So happy you asked! My goal is to make this course as accessible and inclusive as possible, so I am providing transcripts for all videos, and the video player has a toggle to turn on closed captions.
You are minutes away from hitting play on one of the bite-sized videos housed inside of Get Productive With G Suite!
My promise is that Every.Single.Lesson. is crafted to impart time-saving, productivity-hacking takeaways.
You will feel Empowered. Faster. Smarter. (I'm actually not kidding.)
Oh, and your business will be running smoother, simply because So.Will.You.
ONE LAST REMINDER OF WHAT'S INCLUDED IN GET PRODUCTIVE WITH G SUITE (BECAUSE HOW CAN YOU RESIST?!)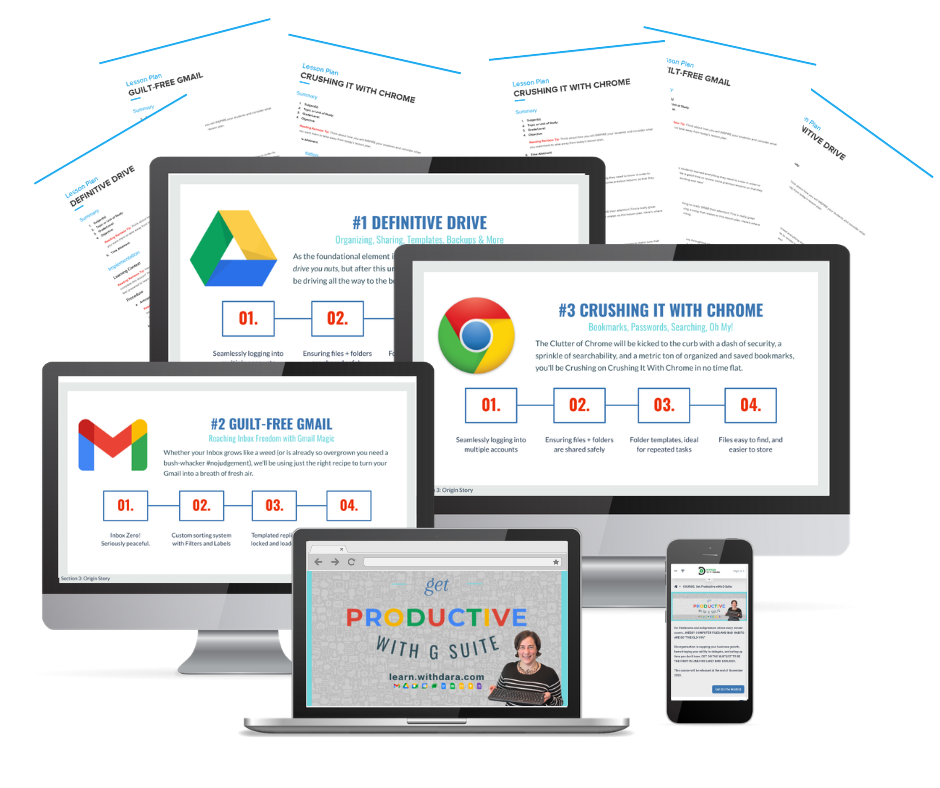 ​   Definitive Drive (Value $257 CAD)
​   Guilt-Free Gmail (Value $127 CAD)
​   Crushing it with Chrome (Value $127 CAD)
​   Intro to TextExpander (Value $22 CAD)
  ​Google Keep Hacks (Value $87 CAD)
​  Google Password Manager (Value $59 CAD)
​  Monthly Live Office Hours (Value $257 CAD)
​   Intro to Workflowy (Value $22 CAD)
​  Emergency Folder Rescue Resource (Value $59 CAD)
​  Optimize Google My Business (Value $59 CAD)
​  Google Calendar and Contacts Hacks (Value $87 CAD)
​  Google Account Security and Support (Value $59 CAD)
TOTAL VALUE = ($1,222 CAD)
And if I'm wrong, I'll refund you within 14 days of purchase.

THE BOTTOM LINE IS THIS:
IF YOU USE ANY OF: GMAIL, GOOGLE DRIVE, CALENDAR, CONTACTS, CHROME, GOOGLE WORKSPACE - AND VALUE YOUR TIME - THEN THIS COURSE IS A NO-BRAINER PURCHASE FOR YOU (AND YOUR TEAM).
All Rights Reserved. Canadians: GST is added: GST#817239155.
All amounts displayed and charged on this page are in Canadian Dollars. GST will be charged on checkout. Note: Most products sold by Dara Sklar are sold in USD. Some listed dollar values shown in sales and marketing material are based on estimated conversions from USD at a rate of ~1.25%.